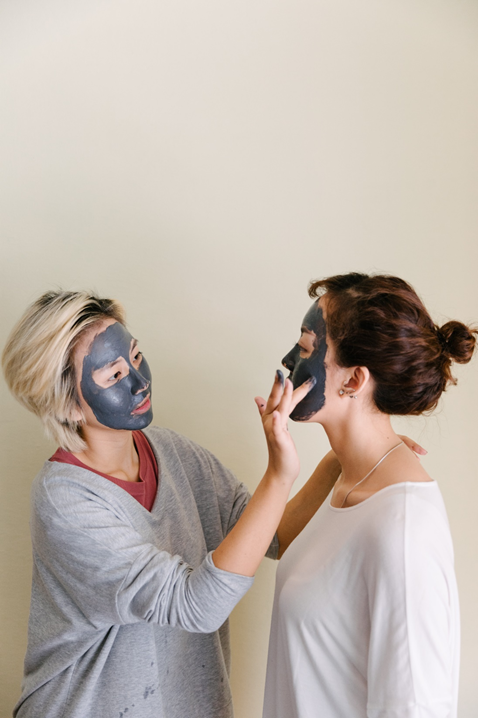 Every woman wants glowing skin. It helps us feel more confident and gives us a younger, healthier look. Once you get that gorgeous glow, you know you are going to feel more confident and you'll start to notice some positive attention coming your way!
There's a common misconception that radiant skin is largely unobtainable unless you're blessed with good genes.  While genes do have a part to play, there are definitely some easy, yet effective, ways to help your skin look its best.  One of the most obvious, yet often overlooked, is to include some good quality skin care products in your daily skin care routine. Here are 5 amazing products to help you achieve a radiant complexion…
Cleanser
Sure, you can use soap and warm water to wash your skin.  But if you really want to get the job done properly, it is always best to use a quality facial cleanser.  When you are out shopping for your cleanser, try to look for one that is gentle, and pH balanced.  This will help your skin return to its natural pH level.  It is also very important to get one that will match your skin type.  We all have different skin.  The common types are dry, oily, and combination.  And there are many cleansers that have been formulated to work wonders on each type.  If you get the wrong cleanser, you could find that your skin gets worse rather than better.  And that's not going to help you get that amazing radiant complexion you've always wanted!  For perfect results, it's best to wash your face at least every evening before bed.  Remember to take your makeup off first before your evening wash! On another note, if you use facial enhancements such as lashes or extensions, make sure you invest in the best false lashes you can. This will ensure that any cleanser doesn't strip them off and cause you any problems.  If you wash effectively the night before, especially if you have double cleansed, the following morning you will simply have to rinse your face with water, and you'll be good to go.
Moisturiser
A good quality moisturiser is one of the most important products for your face!  By simply ensuring your face is hydrated morning and night, your skin will start to glow.  You can use oils or creams, depending on your skin's preference.  Hydrating your skin with a moisturiser is so important because it serves to replenish your skin with any natural moisture that it might have lost over time, resulting in a softer, more subtle appearance.
Seasons can play havoc on your skin.  It is very important to moisturise your face during cold weather.  Throughout the winter, our skin can easily go flaky and dull.  But, with a little help from an excellent moisturiser, you can have it looking fresh and dewy again in no time!  There are so many other benefits of using moisturiser.  One of the main ones is that it can help to reduce the appearance of wrinkles.  Wrinkles and age lines will find it harder to develop in well-moisturised skin.  Any lines that you already have will begin to look finer after a few days of moisturising.  Do you suffer from acne as well?  Then you'll be glad to hear that moisturiser can help to reduce the signs of spots and breakouts!
Night Cream
Night creams or balms are different from your regular moisturiser as they are highly concentrated, and packed with heaps more vitamins and nutrients, so they can really work on your skin overnight.  When you wake up in the morning, your skin will feel extremely soft and smooth!
A night-time moisturiser can be used along with your regular daytime moisturiser.  As the name suggests, night creams or balms should be used at night-time and applied just before you go to bed.  Of course, there's no problem if you wanted to wear one throughout the day.  But one thing to bear in mind is that they are very concentrated, more oily and often thicker than your usual daytime moisturiser.  They can tend to leave your face looking more oily than you might want during the day!  So it's best to use them at night.  The night cream you choose should depend on your skin type.  For example, if you have oily skin, don't buy a night cream or balm designed for dry skin as this will throw your skin out of balance and make it even more oily and possibly cause a breakout.
Vitamin C Serum
Serums are highly concentrated, containing much more biologically active substances than a cream. They are often seen as a luxury when it comes to skin care.  But if you want to see results fast, it is definitely worth investing in a good one!  They can deliver key ingredients deep into the skin quickly, because they are made up of smaller molecules than a normal moisturiser and can be absorbed very easily. If you have mature aged or dry skin, serums can help reduce the appearance of wrinkles and make you look much younger and your skin more supple.  Especially if you get one that contains high levels of antioxidants, such as a vitamin C serum.  With the best vitamin C serum, you will definitely notice the difference in your face.  And it's all because of the extra vitamin that goes into it.  Vitamin C is renowned for helping to tone up skin and reduce any blemishes and dark spots that are a result of aging.
There are many different types of serums that can target other skin concerns and problems.  Some use a special formula that can help the skin to heal itself after long-term damage or neglect.  It's possible to find a serum that should be applied in the morning or just before bed.  So, you will certainly find one that will fit into your usual skin care routine.  If you prefer to apply your serum in the morning, try to find one that has a high SPF, so your skin is protected from harmful UV rays.
Toner
If you have very oily skin or regularly suffer from acne breakouts, you could really benefit from using a toner.  You should use this water-based lotion straight after cleansing your face, both in the morning and at night-time.  After you have cleansed your skin, it will need a lot of nutrients to help restore its surface to how it should be.  And that is where toners come in.  All toners contain fatty acids, antioxidants, and ceramides that can help restore your skin to its natural state.  It will smooth out the surface and replace any lost nutrients and moisture.  This is especially important for oily or spotty skin, as it will reduce the chance of breakouts and can also prevent the appearance of greasy skin.
So, now you can see how easy it can be to get glowing skin!  You just need to buy some good quality important facial products.  A radiant complexion will certainly boost your confidence and make you feel really beautiful.