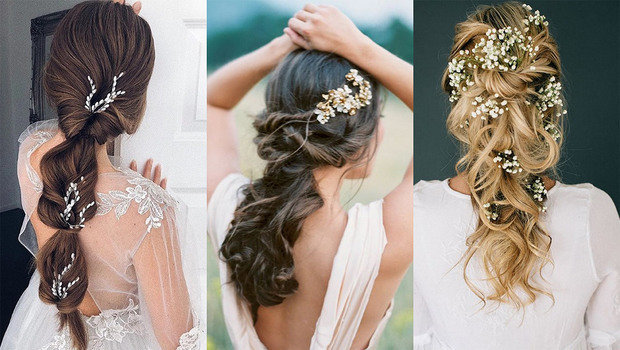 Since your wedding is approaching, you must be tensed about the correct bridal hairstyle for you. You can have hair of any length, and the options for wedding hairstyles are virtually endless. Scroll down to see the stunning hairstyle ideas below.
If you search for bridal hairstylists in the Inland Empire, you will get plenty of them. Every stylist has unique skills. Choose the one best fit for you. Carefully consider their expertise and experiences before making a decision. Here is a list of different wedding hairstyles for all hair lengths, consult with the hairstylist of your choice to get one of these done on your big day.
Bridal hair ideas for short hair
If you have short hair, then you might face issues with decking it up in the most glamorous way. But you have no reason to settle for a bland bridal hairdo; because there are several ways, you can spice up your short hair. Gel your hair in different manners to match it with your wedding dress. Add extensions to your hair, add highlights, waves, or curls to it. You can also use accessories such as gems, flower crowns, barrette, or headbands. All these come in different colors and styles; use them the way you want to add a touch of sparkle to your wedding look.
Bridal hair ideas for medium hair
Most bridal hairstyles are designed, keeping medium length hair in mind. You can style your hair up or down, wear it down your side, tie it up in a fancy manner, or you can let it down in straights or curls. The best way to style your medium length hair is to separate it into two parts. Twist each part in different styles and deck it up with wreaths, bobbles, and gems. Also, use clips and pins to keep the twists in its place. This will keep the hairs off the face and neck and provide a fashionable, sophisticated look for your D-day.
Bridal hair ideas for long hair
Long hair means the preparation will be heavy, and it will not be an easy feat to carry it for the entire length of time. Most bridal hairstyles consider putting the hair down while some prefer to keep the hair up. Since you have long hair, you can introduce more curls, for which you might need to add a lot of hair sprays to keep the curls in its place. You can also use U pins and bob pins to keep your locks under control. You can add some flowers, clips, and pins while being in sync with the rest of your look.
These are absolutely gorgeous ideas that are sure to inspire your bridal hairdo. If you live In the Inland Empire, bridal hair ideas will come in plenty in the form of several hair stylists. Look into their profile, examine carefully, before making that all-important decision. After all, the day is special and so are you!
Straight up hairstyles are a popular type of braided hairstyle that involves creating multiple small, tight braids that are styled straight up from the scalp. They are often adorned with beads or other decorative elements for added flair.